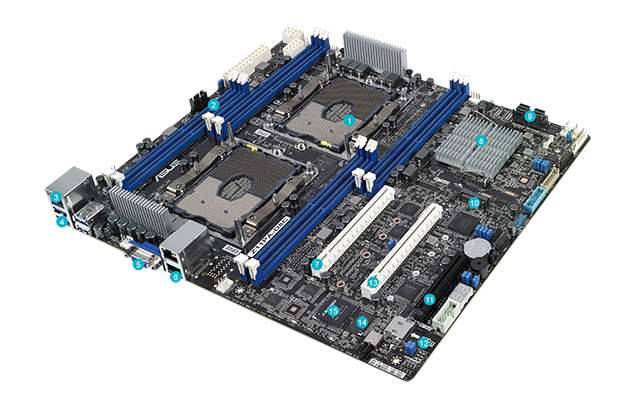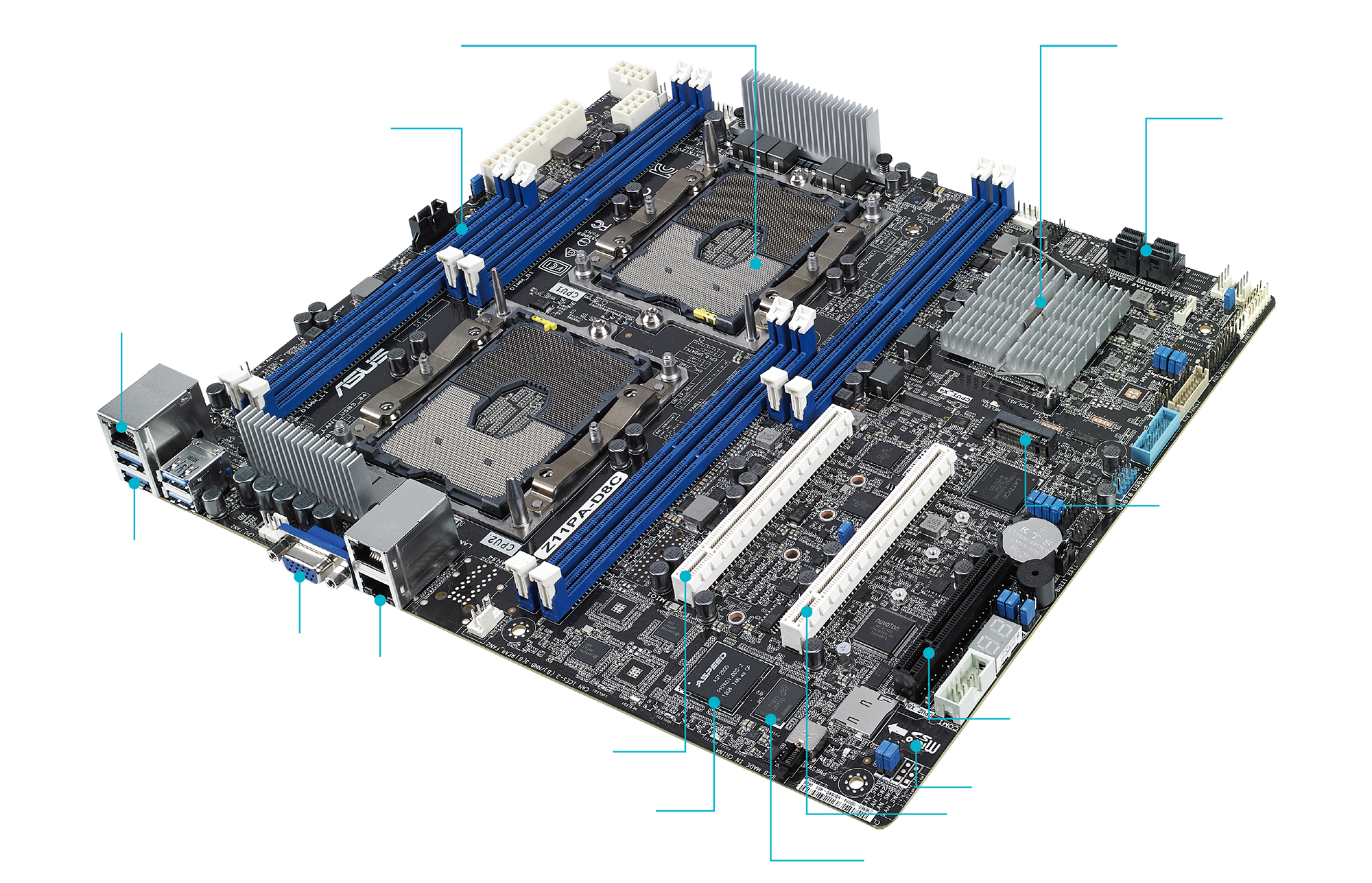 1
Dual Intel LGA3647 Socket
2 8 DIMMs, up to 1024GB
DDR4 2666/2400/2133
RDIMM/LR-DIMM/3DS DIMM

3
Dedicated Management LAN
6 Dual Intel® Server LAN

7
PCI-E x16 (Gen3 X16 Link)
8 Intel® C621 Chipset
11
PCI-E x8 (Gen3 x8 Link)
12
Onboard SD for BMC log record
13
PCI-E x16 (Gen3 X16 Link)
Powerful performance with Intel® Xeon® Scalable processor and ECC memory
Z11PA-D8C is built on the Intel Xeon Scalable processor, which features higher per-core performance and four memory channels that provide 50% more memory bandwidth and capacity for 1.65X faster average system-level performance than previous-generation processors. The Intel Xeon Scalable processor also delivers better virtualization performance, enabling 4.2X more virtual machines (VMs) per system.


With eight DIMM slots that support up to 1TB of fast DDR4-2666, 2400MHz 3DS ECC RDIMMs or LRDIMMs, Z11PA-D8C delivers industry-leading memory capability for your business.

CEB Motherboard with ATX Mounting Holes
Z11PA-D8C supports dual Intel Xeon Scalable processors in a compact, 12"x 10.5" CEB form factor. It also features ATX mounting holes, so you choose from a robust ecosystem of ATX cases instead of specially made, proprietary chassis, and benefit from up-to-date server technologies, even on a limited IT budget.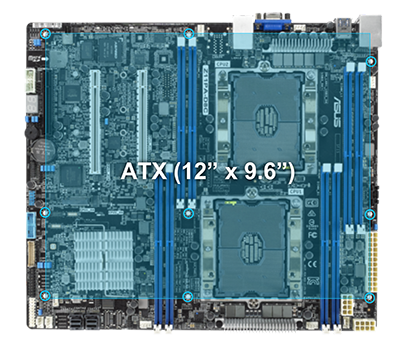 Increased performance with M.2
With a native PCI Express 3.0 bandwidth, M.2 supports up to 16Gb/s data-transfer speeds and up to 22110 NGFF for additional OS storage and PCIe 3.0 x4 bandwidth for 5.3X faster boot speeds than 6 Gb/s SATA III.
Two high-speed mini-SAS HD connections
Z11PA-D8C comes with two mini-SAS HD connectors that support up to eight SATA for 6Gb/s connectivity with external devices and cleaner cable routing. Z11PA-D8C also supports ASUS PIKE II 3000 series, the latest enterprise storage solution, featuring support for 6Gb/s SATA and 12Gb/s SAS storage and integrated RAID data protection. With an ASUS PIKE card, you can immediately improve the storage capacity and performance of Z11PA-D8C, making it a great upgrade option.
Comprehensive IT infrastructure management software
Z11PA-D8C features an embedded iKVM module and is bundled with ASUS Control Center software to provide comprehensive in-band and out-of-band management features for small and mid-size businesses:

ASUS Control Center (ACC) is a centralized and integrated IT management platform for monitoring and controlling ASUS commercial products, including servers, workstations and digital signage. ACC enables remote BIOS updates, monitoring of multiple systems via mobile devices, and one-click software updates and dispatching, allowing easier server management for any IT infrastructure.

The embedded ASMB9-iKVM module supports remote BIOS updates, fan control, standalone KVMs, video recording, and BSOD capture, providing around-the-clock remote monitoring and diagnostics — even if the operating system is down or offline — through a user-friendly, web-based graphical interface that works with all major browsers.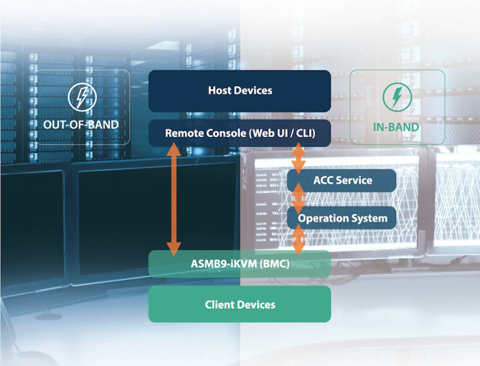 Onboard MicroSD card slot for easy maintenance
Z11PA-D8C includes a microSD card slot to provide additional storage for video and log files, as well as ISO files for OS recovery via the web-based ASMB9-iKVM user interface. This additional storage option enables you to view your files on other devices and keep your data backed up.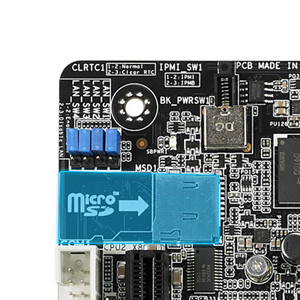 Quick initialization guidance for faster BIOS tracking enhancement
Z11PA-D8C features quick initialization guidance that enables you to realize the system initialization state in seconds. It provides instant system information including the BMC firmware version, system series number, memory error messages and any unusual diagnostic results for improved and more efficient IT operation.